When a friend asks you, "What is Twitter?" , how do you explain it to them? For me, that's a tough question to answer. 
[youtube:http://www.youtube.com/watch?v=PN2HAroA12w]
Whether you admit it or not, I'm sure if you went back to your first couple of tweets, you could easily fit into the group of people this video is referring to. Who's at fault for this entire class of Twitter user? I blame Twitter itself. Take a look at Twitter's definition of itself:
Twitter is a service for friends, family, and co–workers to communicate and stay connected through the exchange of quick, frequent answers to one simple question: What are you doing?
How many of you know someone that strictly uses Twitter for that reason alone? I sure don't. And if I did, I wouldn't be following them in the first place. Therefore, I don't know any. Keep up.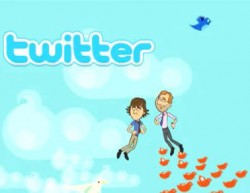 I guess the success of Twitter stems from the fact that we are able to adapt Twitter to what we want it to be. Personally, I love the fact that Twitter offers a platform for open conversation. If you want to join in, you can @ or #hash in. If you just want to be an observer, you can follow the conversation with ease and be totally in control.
Why do you use Twitter?
Video via René Fischer.
Tags: social, tweet, twitter, twitter humor, twitter users, why do you tweet