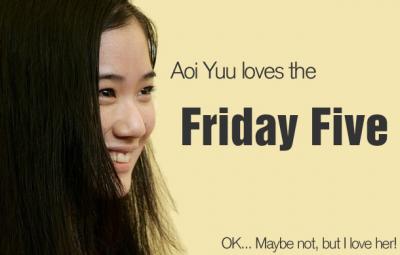 The Friday Five has been around almost as long as I have been blogging. During the early days of xorsyst.com (2001-2002), I used to participate in the Friday Five almost religiously. While I believe it has changed hands a few times, the concept has remained the same. Every week, a new set of 5 questions are presented for bloggers to answer. 

1. If your car/bike is wrecked (if your mass transit service goes belly-up), do you know what you would do to replace it, perhaps even have the car or bike you want already picked out?
I have always wanted an RSX, and when I finally bought one, I became content with my choice of car. Although, secretly, my next car is going to be a white Acura TL. Don't tell my current car though! Lately, I have become fond of bikes. Theres a guy in my neighborhood that has some crazy crotch rocket with the biggest rear tires I have ever seen. I need to find out what he has.
2. A client/friend gives you a lottery ticket, which wins you a prize worth (after taxes) ten times as much money as you earned/received last year. What will you do with it?
I would probaly give them some as a thank you. You know, Karma is a cruel mistress. After that, I would probaly buy up a lot of beachfront property in prep for when the economy gets back on its feet. This is a buyers market people! After that, I would probaly travel the world, and Japan would be my first destination.
3. Fight or flee?
I pick my battles. Gotta know when to hold 'em, when to fold 'em. That was my first and last Kenny Rogers lyric I promise.
4. Someone performs a random act of kindness that is exactly what you need on a bad day. If you wish to pay them back, would you write a poem, bake, buy something, or what?
I would take them out for a drink. I've never been the thank you card kinda guy. Cards are so… impersonal. If I'm going to say something nice to someone, im going to literally say it.
5. Your manager commands you to pick a charity to contribute to. Do you resist? If not, which charity would be your first choice?
I would like to donate to the Big Brothers, Big Sisters foundation. While I have always had a loving and caring mother who I treasure with all of my heart, I missed out on having a father in my life. A child shouldn't miss out on having either parent missing while growing up.
Tags: acura, dad, Friday Five, japan, karma, lottery ticket